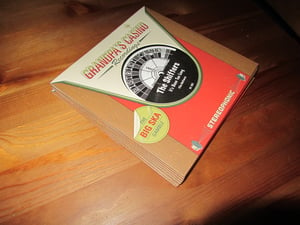 $

23.00 - On Sale
A 7 piece seven inch vinyl record set.
Do you remember the joy of finding new bands? The thrill of listening to a brand new record from a band you've only heard about? I sure do and nothing else ever did come close to those feelings again.
To that end, I took my time and found 8 bands to work with from across the United States to make 7 records. These bands and their records will comprise the Big Ska Gamble.
The Bands:
the Shifters
rocksteady from Washington D.C.
the Action League
ska/punk from San Luis Obispo, CA
the Georgetown Orbits
ska, reggae and dub from Seattle, WA
Lockstep
reggae punk from Indianapolis, IN
Do It With Malice
ska/metal/hardcore punk from Buffalo, NY
Stop the Presses
ska/surf/punk from Miami, FL
As well as a bonus split 7" featuring:
Sammy Kay & the East Los Three
ska music/blues singing from NYC/East LA
Jorge & the Landladies
psychedelic/reggae/soul from Washington D.C.
Once these records are sold, they are gone. Limited edition and all that. You wouldn't want to miss your chance on this opportunity would you?
So, there's my pitch. The music is done. It is pressed and it wants to be heard. We're all ready to go. The question is, are you ready to throw your money on the table and let it ride? Are you ready to take part in the Big Ska Gamble?